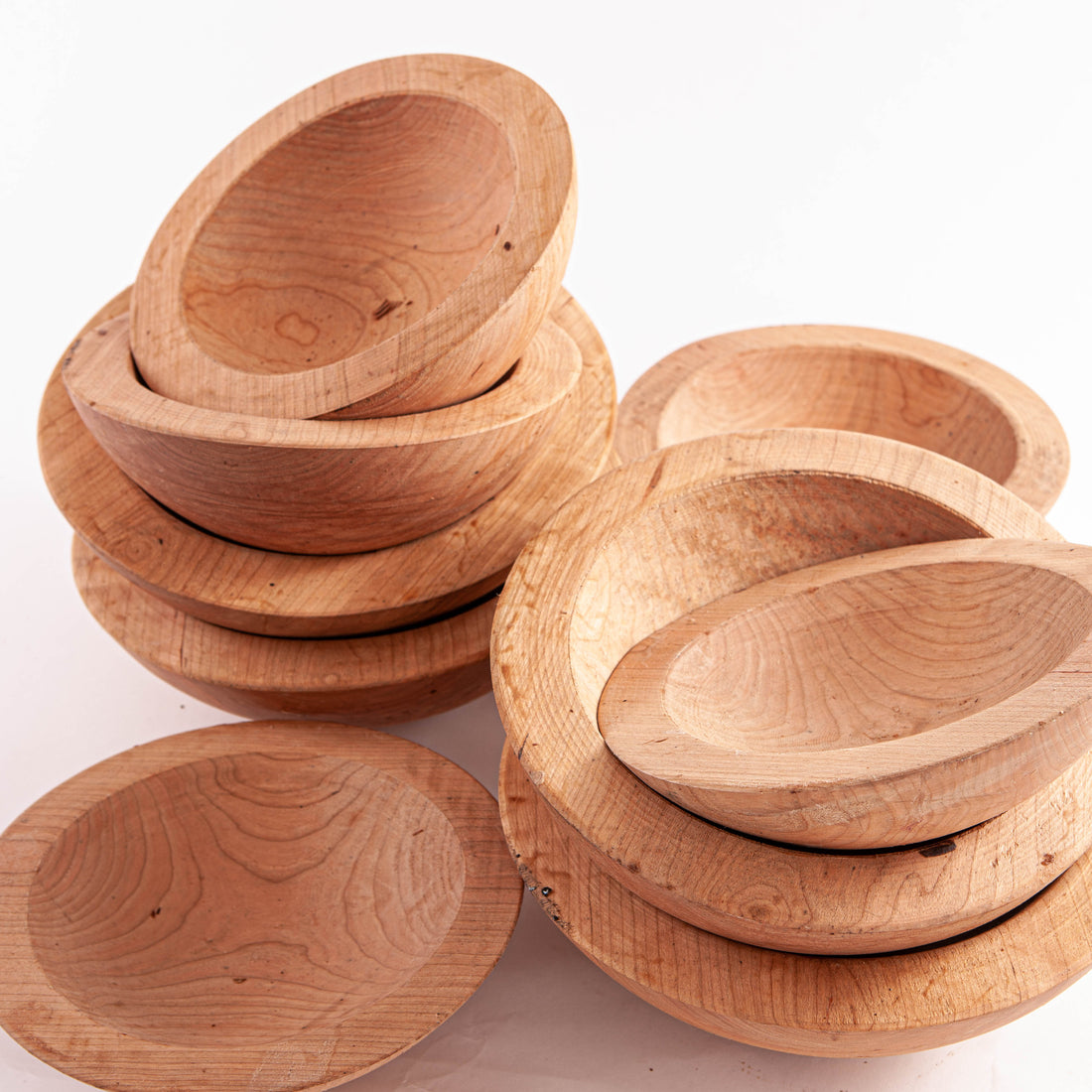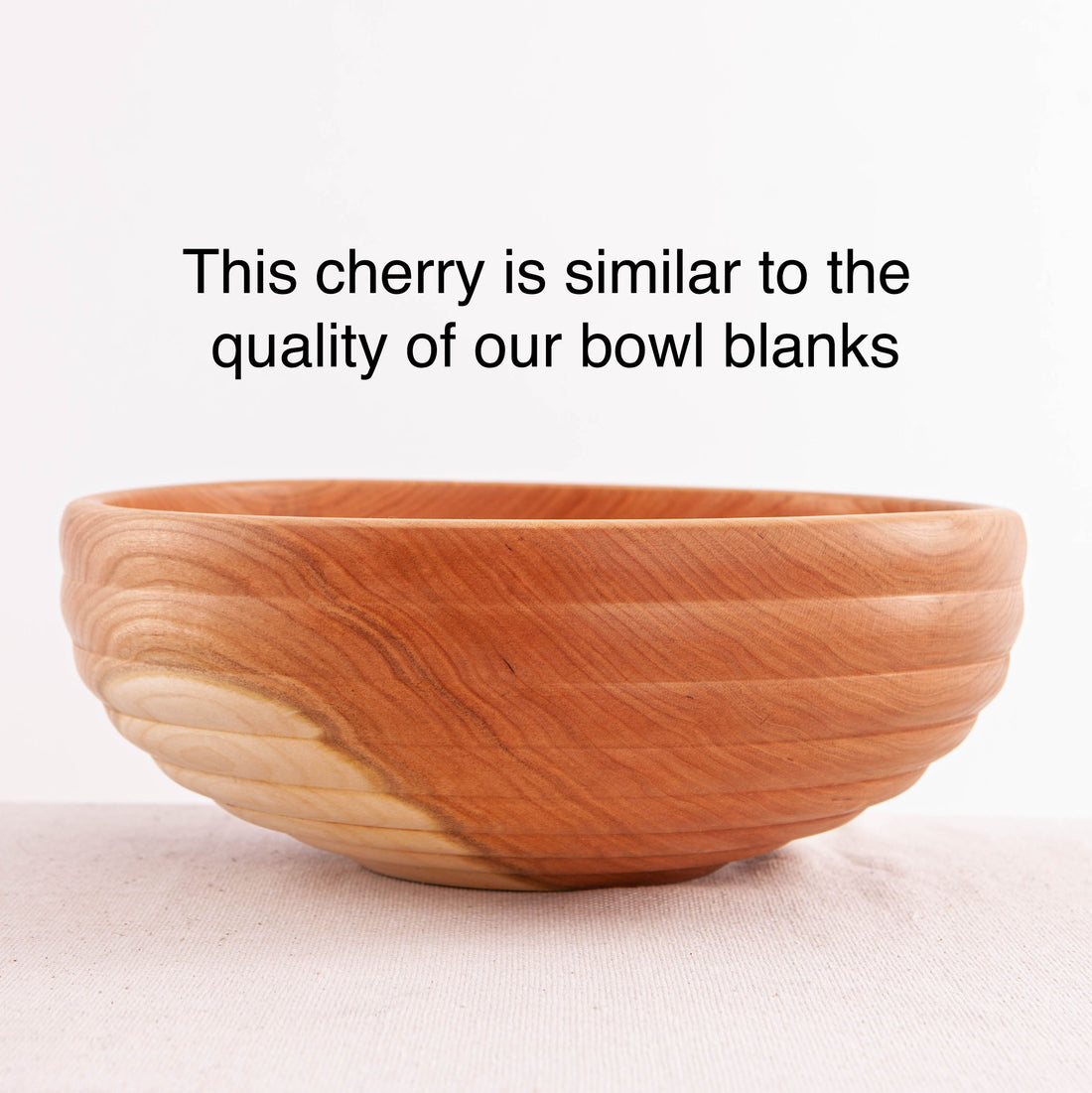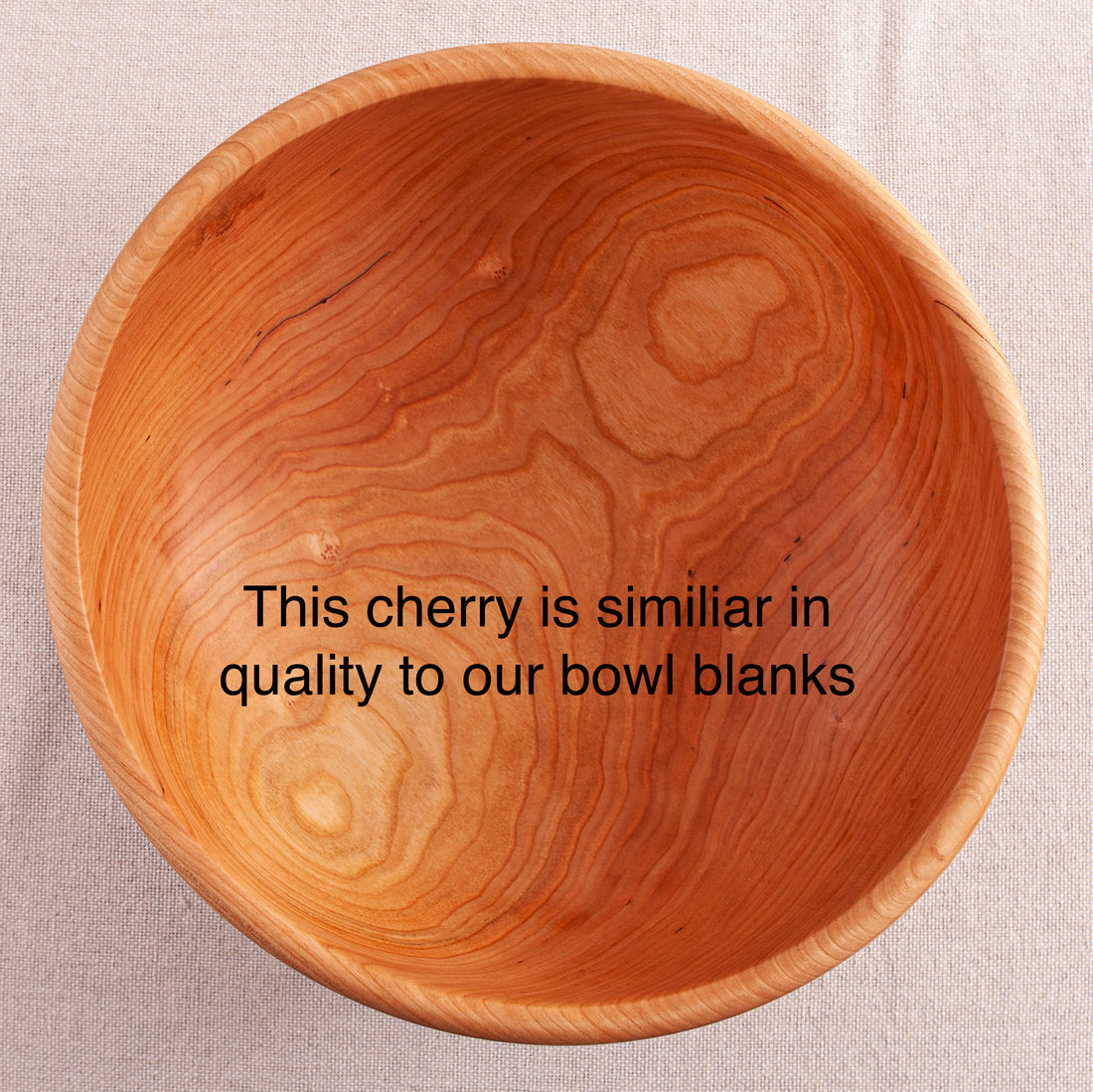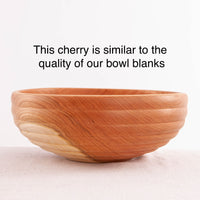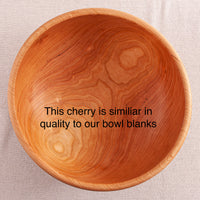 ROUGHED OUT BOWL BLANKS IN CHERRY
*THIS PRODUCT DOESN'T QUALIFY FOR FREE SHIPPING.
Cherry has been the major cash crop for northwestern Pennsylvania for a very long time. The Cherry that grows here is known to be the best in the world. Very little pitch (dark pockets) Tight growth rings, little sapwood. Cherry turns extremely well and takes a nice polish sanding, and finishing. It also will darken significantly with UV light exposure and age. It's my personal favorite turning wood!
Do you struggle to find high-quality logs to turn your bowls from? Can't or don't enjoy the rough work of making bowl blanks? Don't have the time or room to dry roughed-out bowls after turning? I'm here to help! I source all of my stock from local forests. Tight growth rings, no metal, the highest quality wood blanks available

All our roughed-out bowl blanks are turned from greenwood to a thickness of over 10% of diameter (a 10" blank will be approximately 1" thick or greater). All blanks are dried to around 8% moisture and are ready for you to give them a second turn. Most of the larger blanks have tenons on the bottom that need to be trued up. Most of the smaller blanks do not have tenons, but there is plenty of depth to put one on. If you ever need any help or have any questions please feel free to message me at Scott@Alexanderdesigns.us I'm always happy to help :)
• Measurements are taken at the smallest width at the rim, and height is rounded down to the nearest inch. 
This product doesn't qualify for free shipping.
Your Alexander Designs piece arrives finished with a food safe oil and wax combination. Proper cleansing and seasoning will maintain its natural anti-bacterial properties. To prevent splitting or cracking, never soak your piece in water, put it in the dishwasher, refrigerator, or microwave.
After use, hand wash with soap and water, rinse, and hand dry. After it has been allowed to completely dry, after repeated use it may seem a little dull or dried out from washing. If so, it could use a bit of seasoning. The following are great options: Our favorite is our made in-house Wood Wax. Simply rub a small amount of Wood Wax onto the piece with a small lint free cloth (In our home we leave a small piece of cotton cloth in the Wood Wax tin, as to never waste any product), let the wood wax absorb into the piece for 20-30 minutes, then buff off the excess with a lint free cloth. Our second choice would be a heat-treated walnut oil such as Mahoney's Walnut Oil (it can be found at several retailers online. Lastly, (our least favorite option) you can use Mineral Oil as it's food safe, however it does evaporate and will require more frequent applications. Always avoid using any vegetable-based oils as they will turn rancid over time. 
Following these care instructions will allow your piece to be enjoyed for generations. If you ever have any questions, please don't hesitate to email, or call, we are here to help you.
Excellent! Highly recommended
The roughed out bowls I received were excellent quality, shipped promptly and well packed.
Superb rough blank
Fast shipping, packed well, received a bonus and the blank was superb. When I need roughed bowl blanks again… I'm shopping with Alexander Designs!
No worse customer and critic that another Woodturner
I have used the OneWay Coring system and cored maybe 100 bowl blanks, The ones I received from Alexander Designs were as good and in most cases better that any I have done, The fact they are kiln dried is key and makes them an exceptional value! They were packed well and came quickly, When I think back to my working life and the value of my time at work, these really did not cost very much! I will be back for more as he releases them. Many of the blanks I have produced had flaws as my wood was what I could find, these were professionally sawn from large trees and are perfect!
Excellent Service
I've been buying Bowl blanks for several years from Scott. His service and response to questions is always excellent as is the character of the wood he ships. He's one of the good guys in our business!